MAWA GUJIYA | GUJIYA WITH MAWA | MAWA GUJIYA RECIPE
Welcome to Nisha Madhulika, Today we will make Mawa Gujiya Recipe is mostly made on Holi and it is very tasty and most famous recipe during Indian festivals, so you must do it. If you like my recipe, please like and share.
Ingredients 
2 cups All-Purpose Flour
1 cup Mawa/Khoya
1/3 cup Milk Cooking Oil
3 tbsp Boora(Fine Sugar)
¼ cup Almonds (chopped)
¼ cup Raisins
½ tsp Cardamom Powder
How to Make Gujiya with Mawa 
First, we're going to take some all-purpose flour and make a well in the centre this we're going to add some salt and some Desi ghee.
So here comes the first important point that is you need to mix. The key properly with the flour so that each and every grain of the flour is first coated with the fact and then with the water after integrating for 5 minutes when you notice that the flour would start to combine and hold together at this point of time.
We will add 1/4 of a cup of water just tried to mix up together. And after about two minutes again, add 1/4 cup of water now this much water should be enough to combine the dough together. So the second important point here is that you cannot add more than 40 to 45 per cent water.
So here is my last instalment of water, which is 1/16 of a cup of water. And that's it. You see you have to make a hard to hear. Otherwise, the pastry of the Vidya will not be puffed. That is it will not be kasta by any chance you add more water.
Then you will excess moisture. You'll have these bubbles which will result in your pastry being very firm. Now, I know this dough is not smooth at all, but don't worry just cover it with a damp cloth and let it rest for about 30 to 45 minutes.
And in the meanwhile, let's prepare the stuffing for the gujiya. For which we're going to need some roughly chopped cashews. Now I am using roasted cashews here, but you can use normal cashews as well.
Mawa (Khoya)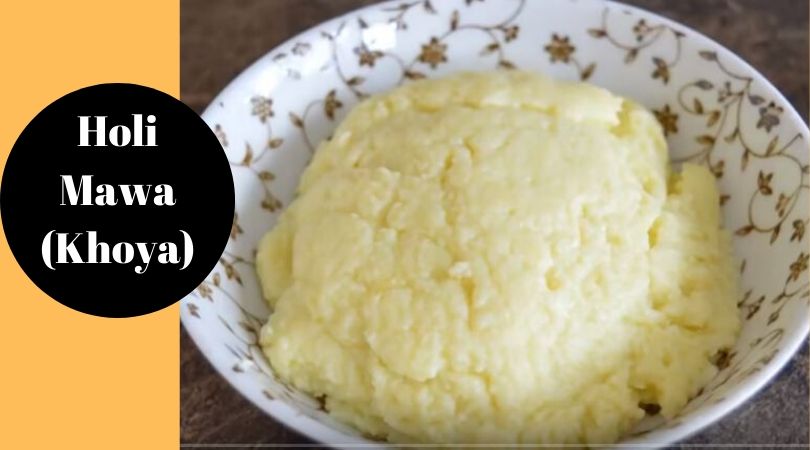 Then comes in some raisins. Next, we're going to add some roughly chopped pistachios. You're gonna need some desiccated coconut. But if you want to use fresh coconut and you can use that as well last but not the least you're gonna need some elaichi powder or green cardamom powder.
All right. It's time look so first we're going to dehydrate some semolina just cook on a low flame for about two to three minutes.
You can totally skip the semolina, but I personally feel that semolina takes care of the excess moisture present in the Khoya and it also adds another dimension to the stuffing.
All right, after two to three minutes keep the semolina side and take another pan and keep it again on a low flame.
This pan adds some ghee and the shredded mawa and I want you to cook this khoya properly. Take your about 5 to 6 minutes. After which you'll notice that the mawa will start to stick together and we'll turn a little bit Brown.
So this is the right time to add the semolina and cook for around 2 minutes, then turn the flame off and let this mixture rest and cool down a little bit after some time add some powdered sugar or caster sugar or powdered cardamom and just mix everything until it combines together. And yes. At this point, I realized that my man was too small to handle such a quantity.
So I simply transferred it into a bowl and then added the desiccated coconut and the drive-thru mix everything together and your stuffing is ready.
Alright, time to check our dough now resting the dough with a damp cloth does make a huge difference. You can see that earlier the dough have lots of cracked And now the dough is pretty smooth secondly gluten has developed because now when I press the dough it retracts to its original position, which earlier didn't happen at all.
Okay, so just like a dough ball and try to roll it and evenly as possible now to keep a role to on a gujiya mould and make sure you apply ample amount of water to the edges at the stuffing.
Don't overfill it. Gently press with your mould and hold it for about 10 seconds in the end. You can't stretch and remove the excess dough, but I personally prefer removing it with a sharp knife so that you have that perfect edges and then get this I know you might not have a good yummy.
So just take a little bowl or cup press towards the dough. And remove the excess with the help of a knife apply some water on the edges then add the stuffing in the centre and stick both the sides together and give the Gujiya shape.
The Spears The Edge is the help of hope and this will also make sure that the Gujiya doesn't burst while you're frying it. Now before frying, I want you to rest the batch for about 5 minutes, this will help to gujiya to see properly, but make sure you cover it.
Now you need to make sure that file your frying the gujiya. The temperature is always set to low also add ample amount of gujiya so that the temperature is maintained throughout and the Gujiya Cooks evenly Do not stir gujiya. Otherwise, they can break and sometimes when they don't flip you need to use your strainer and hold it so that it Cooks properly on both sides. That's it.
This cook for about 5 to 6 minutes or until they are golden brown and then you will get Gujiya.
Enjoy Mawa Gujiya.
Be foodie Human.
Video 
Find more recipes at our website: FoodieHuman.com
More Desserts Recipes like