A cappuccino is an espresso-based coffee drink that originated in Italy and is traditionally prepared with steamed milk foam. Variations of the drink involve the use of cream instead of milk and flavouring with cinnamon or chocolate powder.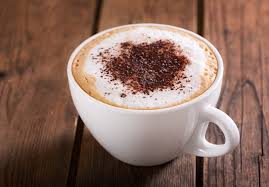 Ingredients
2 cups of milk
1 cinnamon stick
2 cups strong coffee
Sugar – to taste
Ground cinnamon
Instructions
In a saucepan heat, the milk and the cinnamon stick just until milk comes to a boil.
Turn heat down and let the milk simmer for 10 minutes.
Remove the cinnamon stick from the heated milk.
Pour 1/2 cup of coffee in the cup and add sugar to taste.
Now pour the hot milk, raising it high.
Sprinkle ground cinnamon and serve hot.
Enjoy Cappuccino.