Mawa Gujiya is a traditional Indian fried pastry stuffed with sweet coconut and Khoya filling. Gujia is must make a recipe for the festival of Holi.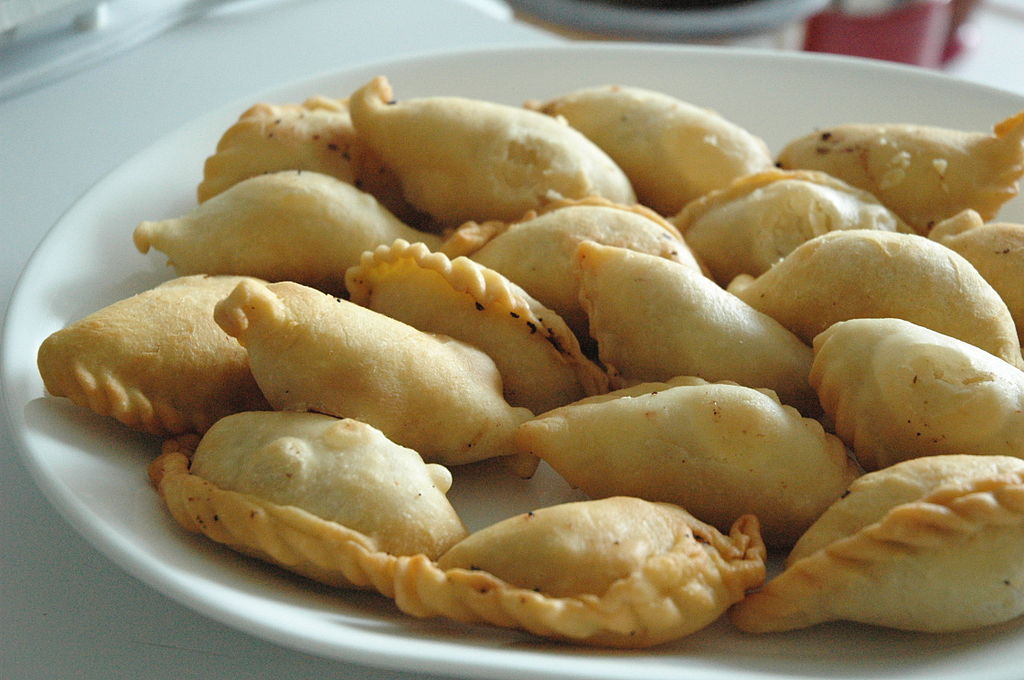 Ingredients
For The Filling
200 gms Khoya/Mawa
2 tablespoon desiccated coconut
2 tablespoon sugar
1/2 tsp green cardamom powder
1/2 cup chopped mixed nuts( almonds, pistachios, Mellon
seeds, raisins/ kishmish)
For The Crust:
1 cup all-purpose flour( maida)
1 tablespoon fine sooji( semolina)
2 tablespoon oil
1/2 cup water at room temp.

Garnish:
1 cup of sugar
1/2 cup water
2 tablespoon finely sliced almonds & pistachios
Instructions
Filling:
1. Mash the khoya, transfer to a pan & start cooking on medium heat until it becomes soft. Add sugar, nuts,
cardamom powder & coconut powder. Stir continuously until the mixture starts leaving the sides of the pan.
Switch off the heat.
2. Set aside & let it cool ( the mixture should be slightly moist after cooling if it seems too dry add a tsp of warm
milk & moisten a little)
Crust:
1. Mix flour, sooji & oil in a bowl, make a soft dough adding water as needed. Knead the dough 2-3 mins. until it
becomes soft & even.
2. Roll the dough into a ball, cover it with a damp cloth & let it sit for about 10 mins.
Making the gujiya:
1. After 10 mins. knead the dough again for a min.
2. divide dough into 20 equal parts & roll into small balls.
3. Divide the filling also into 20 equal parts & roll each portion into the palm of your hands ( this is how I do it as it
becomes very easy to be placed in the dough)
4. With a rolling pin roll each ball into approx. 4 " diameter rounds.
5. To fold the gujiyas , moisten the edges of each rolled dough round with the tip of your finger dipped in water.
6. Place a portion of the filling on each round on one half side, fold in a semi-circle & press the edges with the tip
of your finger or a fork . A fork helps to seal the edges tightly & beautifully.
8. Heat enough oil for frying in a pan or wok . To test if the oil is hot enough drop a small piece of the dough into



the oil, it should start sizzling but come up onto the surface slowly. If the piece of dough comes up immediately
this means the oil is too hot . In this case turn off the heat for sometime & let oil cool a little.
9. Place the gujiyas in the oil one by one. Fry 4-5 gujiya batches. As the gujiyas start floating on the oil, turn them
slowly. Fry gujiyas on medium heat until they turn golden on all sides. If fried on high heat the crust will remain
soft & the inner layer will be uncooked.
10. When golden, remove from oil & place on kitchen paper
11. Enjoy Mawa Gujiya.
Nisha Madhulika Recipes
Foodie Human Recipes
CVS Recipes
Read Latest Articles: